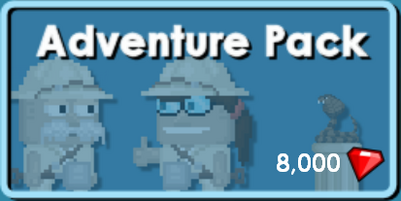 ▶Available in Store
Adventure Pack ( 20,000

)
"Join Dr. Exploro and her father (also technically Dr. Exploro) as they seek out adventure! You can make your own adventure maps with the tools in this pack: 4 Gateways To Adventure, 4 Path Markers, a Lazy Cobra, 5 Adventure Items (Rope, Torch, Banana, Key, and Golden Idol), and a Rare Adventuring Mustache, Adventurer's Sling Bag and Explorer's Ponytail."

News Article: June 14th: ADVENTURE PACK! Throw me the idol! Create your own exciting adventures using new blocks that allow dialog choices and story item collecting.
Pack was first released on the 14th of June, 2014. On 1 June 2017 Adventure Pack was updated and in addition to items already there was added: Adventure Brazier, Adventure Barrier, Adventurer's Sling Bag. In exchange to new items Adventure Item - Banana was removed. The price was also changed from 8000 gems to 20000 gems.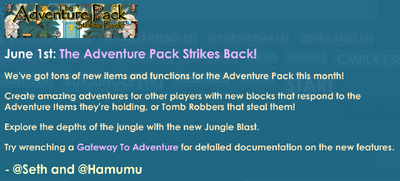 Old pack content:
New pack content:
Ad blocker interference detected!
Wikia is a free-to-use site that makes money from advertising. We have a modified experience for viewers using ad blockers

Wikia is not accessible if you've made further modifications. Remove the custom ad blocker rule(s) and the page will load as expected.