The Growtopia Gazette: April 2nd: The Ultimate Update - Oops, I guess we forgot these other items we also made for April. It's Artsy April!


Get ready to paint the town red, blue, or whatever color you like with the amazing new art-related items!

- @Seth and @Hamumu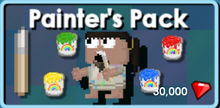 ▶Available in Store
Painter's Pack ( 30000

)
Want to paint your world? This pack includes a Rare Paintbrush , and 20 Paint buckets of random paint colors (may include Varnish, to clean up your messes)! You can paint any block in your world different colors to personalize it.
This Pack includes:
20 Paint Buckets (different colors)
New Items
Ad blocker interference detected!
Wikia is a free-to-use site that makes money from advertising. We have a modified experience for viewers using ad blockers

Wikia is not accessible if you've made further modifications. Remove the custom ad blocker rule(s) and the page will load as expected.