The tree of this item can be made by mixing the following seeds:

Military Radio Seed

Steam Crossover Seed
The
Audio Rack
is a splicable non-solid block introduced during
Cinco De Mayo Week
2017. It allows players to adjust music in a world such as the volume and allows up to five notes to be played simultaneously.
They can also be used to play notes which are usually unplayable such as overlapping notes or notes which are blocked by Bedrock. They can only play piano, drum, bass or sax notes and sheets such as Sheet Music: Spooky and Sheet Music: Winterfest cannot be played.
The volume can also be adjusted, however, the sound can only be softened. The maximum volume is 100 which is the same as a regular sheet music. It can be reduced by changing the value to less than 100.
Gallery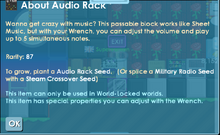 Ad blocker interference detected!
Wikia is a free-to-use site that makes money from advertising. We have a modified experience for viewers using ad blockers

Wikia is not accessible if you've made further modifications. Remove the custom ad blocker rule(s) and the page will load as expected.