Stub
Please add more information to this page.
This horse is the same thing as a Skeletal Horsie, but has such a shiny coat! Sponsored by Avenie.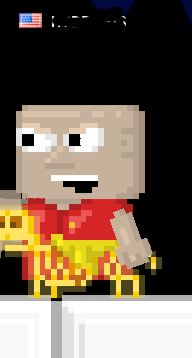 This Item was added on November 13, 2014. It looks like a Skeletal Horsie but has golden in colour. It also leaves a trail of golden sparkles like when a player has the "Lucky" Mod. This, however, adds the "Speedy" mod.
Recipe
▶By Combining
To make this, mix the following items: A Skeletal Horsie, 20 Golden Blocks and a Transmog Crystal in any Chemical Combiner.
In-Game Description
This item can't be spliced.
This item never drops any seeds.
Trivia
When the Avenie Golden Horse was released, many players thought it required a Golden Heart Crystal to be made. That caused the price to go above 10-15 Diamond Locks.
Ad blocker interference detected!
Wikia is a free-to-use site that makes money from advertising. We have a modified experience for viewers using ad blockers

Wikia is not accessible if you've made further modifications. Remove the custom ad blocker rule(s) and the page will load as expected.