Big Lock

Basic information

Name
Big Lock
Rarity
999
Category
Lock
Properties
Wrenchable
No Seed
No Destroy


Extra information

Texture Type
No spread
Collision Type
Fully solid
Hardness
60 (10 hits to destroy)

Seed Information

Grow Time
1h
Seed Style
6 / 12 / 6 / 4
Seed Color
#d65810
Overlay Color
#b1b633
Lock 48 tiles around itself.
This Lock locks a 7 x 7 area (49 Tiles) but only 48 useable tiles (since the 49th tile is occupied by the lock itself. Recycling this item will give 20 gems which is 10% of its original cost: 200 gems. Upon destroying the item, it will go directly to your inventory without dropping.
In-Game Description
This item can't be spliced.
This item never drop any seeds.
Recipe
Available in Store
Big Lock ( 200

)
Protect up to 48 tiles.Can access friends to the lock so others can edit that area as well. It's a perma-item, is never lost when destroyed.
Gallery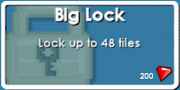 Ad blocker interference detected!
Wikia is a free-to-use site that makes money from advertising. We have a modified experience for viewers using ad blockers

Wikia is not accessible if you've made further modifications. Remove the custom ad blocker rule(s) and the page will load as expected.