This Lock locks a 7 x 7 area (49 Tiles) but only 48 usable tiles (since the 49th tile is occupied by the lock itself. Recycling this item will give 20 gems which is 10% of its original cost: 200 gems. Upon destroying the item, it will go directly to your inventory without dropping.
Recipe
▶Available in Store
Big Lock ( 200

)
Protect up to 48 tiles.Can access friends to the lock so others can edit that area as well. It's a perma-item, is never lost when destroyed.
Gallery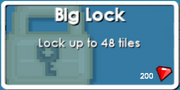 Ad blocker interference detected!
Wikia is a free-to-use site that makes money from advertising. We have a modified experience for viewers using ad blockers

Wikia is not accessible if you've made further modifications. Remove the custom ad blocker rule(s) and the page will load as expected.