Stub
Please add more information to this page.
This is a broken piece of a sword blade. It's of a low-quality steel and could stand to be tempered.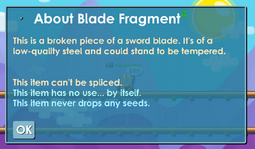 It can be obtained by fighting villians. It can be burnt in a
Highly Combustible Box
 to make
Tempered Steel Fragment
and is used to make the
Sword Blade
.
In-Game Description
This item can't be spliced.
This item has no use... by itself.
This item never drops any seeds.