Bubble Wrap
Appearance

Basic Information
Name
Bubble Wrap
Rarity
14
Extra Information
Category
SFX Background
Properties
No Special Action

Texture Type
No spread
Collision Type
No collision
Hardness
24 (4 hits to destroy)
Seed Information
Grow Time
52m 44s
Seed Style
4 / 8 / 4 / 0
Seed Color
Overlay Color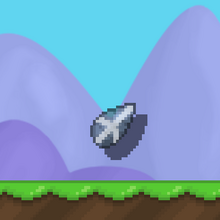 Everybody loves to pop Bubble Wrap! Just walk in front of it to pop it. Unlike the real thing, this will un-pop in 10 seconds.

Bubble Wrap is a rarity 14 item which is made by splicing a Blueberry Seed and a Glass Pane Seed. Bubble Wrap is not farmable.
When you walk past a bubble wrap, it pops but then returns to its unpopped form 10 seconds later.

Ad blocker interference detected!
Wikia is a free-to-use site that makes money from advertising. We have a modified experience for viewers using ad blockers

Wikia is not accessible if you've made further modifications. Remove the custom ad blocker rule(s) and the page will load as expected.