Recipe
Stub
Please add more information to this page.
Moo! This little baby cow will follow you wherever you go! Mainly because its tied to your wrist.
The
Calf Leash
is an animal leash which summons a calf to follow the player around when equipped. It has a very low chance of dropping when breaking
Cows
or harvesting Cow trees. It was introduced during the
Farm Pack
update.
In-Game Description
This item can't be spliced.
This item never drops any seeds.
This can be trained as an Earth Battle Pet.
Gallery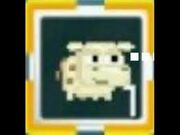 Ad blocker interference detected!
Wikia is a free-to-use site that makes money from advertising. We have a modified experience for viewers using ad blockers

Wikia is not accessible if you've made further modifications. Remove the custom ad blocker rule(s) and the page will load as expected.