Change Of Address
Appearance

Basic Information
Name
Change Of Address
Rarity
999
Extra Information
Category
Consumable
Properties
No Seed

Texture Type
No spread
Collision Type
No collision
Hardness
0 (0 hits to destroy)
Seed Information
Grow Time
1h
Seed Style
10/4/2/4
Seed Color
Overlay Color
"If you own two worlds, you can use this handy form to swap their names permanently. See a new name you want that nobody wants? Lock it up, and do a name swap! Requires a World Lock in both worlds."
The Change Of Address costs 20,000 gems in the store. The item allows you to change one of your world's name to another. Both worlds must have to have your World Lock in them.
Available in Store
Change of Address ( 20000

)
Don't like the name of your world? You can use up one of these to trade your world's name with the name of any other world that you own. You must have a World Lock in both worlds. Go lock up that empty world with the new name new name you want and swap away!
In-game description
This item can't be spliced.
This item never drops any seeds.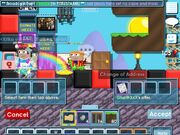 Ad blocker interference detected!
Wikia is a free-to-use site that makes money from advertising. We have a modified experience for viewers using ad blockers

Wikia is not accessible if you've made further modifications. Remove the custom ad blocker rule(s) and the page will load as expected.