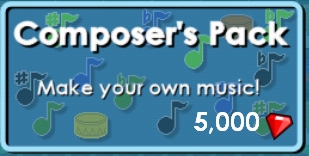 ▶Available in Store
Composer's Pack ( 5,000

)
With these handy blocks,you'll be able to compose your own music,using your World-Locked World as a Sheet of Music.Requires a World Lock (sold separately!).Comes with 100 Sheet Music Wallpapers of Various Kinds.
The pack can have
(To play music on world, the world must be world locked)
Ad blocker interference detected!
Wikia is a free-to-use site that makes money from advertising. We have a modified experience for viewers using ad blockers

Wikia is not accessible if you've made further modifications. Remove the custom ad blocker rule(s) and the page will load as expected.