Country Flag
Appearance

Basic Information
Name
Country Flag
Rarity
999
Extra Information
Category
Country Flag
Properties
Multi Facing
No Seed

Texture Type
No spread
Collision Type
No collision
Hardness
42 (7 hits to destroy)
Seed Information
Grow Time
1h
Seed Style
1 / 2 / 1 / 2
Seed Color
Overlay Color
Place this anywhere to proudly display your country's flag!

The Country Flag is a block made by sewing added with the Silkworm Update. When placed, it displays the flag which is shown next to your name in the game. There is no way to change the flag once the block is placed.
Sewing will give 1 Block.
The recipe was disabled on the Artsy April update due to a world rendering bug, but then re-enabled on 3 May, with the Cinco De Mayo event.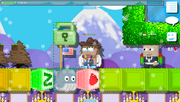 Ad blocker interference detected!
Wikia is a free-to-use site that makes money from advertising. We have a modified experience for viewers using ad blockers

Wikia is not accessible if you've made further modifications. Remove the custom ad blocker rule(s) and the page will load as expected.