Curse Wand
Appearance

Basic Information
Name
Curse Wand
Rarity
999
Extra Information
Category
Consumable
Properties
No Seed

Texture Type
No spread
Collision Type
Fully solid
Hardness
120 (20 hits to destroy)
Seed Information
Grow Time
1h
Seed Style
11 / 6 / 3 / 6
Seed Color
Overlay Color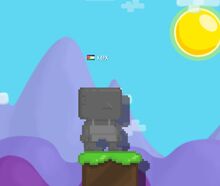 You're on the HIGHWAY TO HELL!! (For 10 minutes)
The Curse Wand is a consumable item which you can use on another player, which banishes them to the world called HELL for 10 minutes. It can only be used once. All moderator-type wands are super-rare and only obtainable directly from the developers Seth and Hamumu. Moderators used to get few ones early game, aswell as Cosmo (Seth's son).
When a player gets cursed, their player's skin is grey and has no facial feature, other than the nose, in the world HELL. Sometimes, due to the seriousness of their wrong-doings, cursed players are also duct-taped, too.
History
In the V1.5 Update, their avatar is usual but they are just grey. But later the developers decided to revert back to their old grey faceless beings.
Trivia
The In-Game Description of this item is a reference to AC/DC's song "Highway to Hell."
Gallery
Ad blocker interference detected!
Wikia is a free-to-use site that makes money from advertising. We have a modified experience for viewers using ad blockers

Wikia is not accessible if you've made further modifications. Remove the custom ad blocker rule(s) and the page will load as expected.