Stub
Please add more information to this page.
This works like a regular door, but it looks much more medieval.
The Dungeon Door was one of the first items ever to make its debut in Growtopia. This item's seed looks exactly like the Barrel seed. You can walk through the dungeon door or enter it too.
Recipe
In-Game Description
Rarity: 8 This item has special properties you can adjust with the Wrench.
Gallery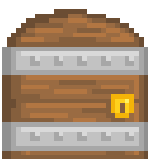 Ad blocker interference detected!
Wikia is a free-to-use site that makes money from advertising. We have a modified experience for viewers using ad blockers

Wikia is not accessible if you've made further modifications. Remove the custom ad blocker rule(s) and the page will load as expected.