Stub
Please add more information to this page.
When you don't want anyone to recognize your chin, this is a perfect disguise.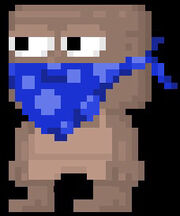 In-Game Description
Rarity: 31
This item never drops any seeds.
Recipe
The tree of this item can be made by mixing the following seeds:

Polka Dot Block Seed

Pastel Blue Block Seed
Additional Information
This clothing is often used to disguise as a burglar. This clothing makes the growtopian look like a burglar.