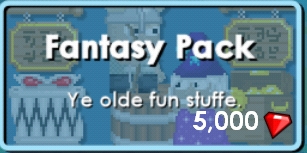 ▶Available in Store
Fantasy Pack ( 5,000

)
"Hear ye, hear ye! It's a pack of magical wonders! You'll get a mystical Wizard Hat Seed, a Wizard's Robe, a Golden Sword, an Elvish Longbow, 10 Barrels, 3 Tavern Signs, 3 Treasure Chests, and 3 Dragon Gates!"
The pack includes:
Ad blocker interference detected!
Wikia is a free-to-use site that makes money from advertising. We have a modified experience for viewers using ad blockers

Wikia is not accessible if you've made further modifications. Remove the custom ad blocker rule(s) and the page will load as expected.