Fiesta Sombrero
Appearance

Basic Information
Name
Fiesta Sombrero
Rarity
999
Extra Information
Category
Clothes
Properties
No Seed

Texture Type
No spread
Clothing Type
Hat
Collision Type
Fully solid
Hardness
0 (0 hits to destroy)
Seed Information
Grow Time
1h
Seed Style
3 / 6 / 3 / 6
Seed Color
Overlay Color
Take the fiesta with you everywhere you go!
The Fiesta Sombrero was introduced during Cinco De Mayo Week 2013.
In-Game Description
This item can't be spliced.
This item never drops any seeds.
Recipe
Cinco De Mayo Week
2014: This item can only be obtained by placing a
Lucky Pinata Hat
inside a
Mystery Pinata
.
2013: This item could be obtained through simply breaking a Ultra Pinata.
Additional Info
This item sends streamers and confetti flying in all directions as you move about.
Gallery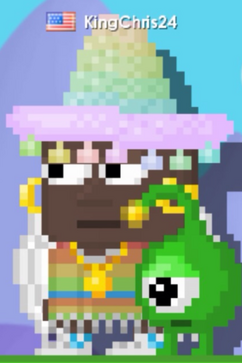 Ad blocker interference detected!
Wikia is a free-to-use site that makes money from advertising. We have a modified experience for viewers using ad blockers

Wikia is not accessible if you've made further modifications. Remove the custom ad blocker rule(s) and the page will load as expected.