Growassic Park is the tenth monthly update of 2016, which was added on the 7th of October. It introduces fossils and other items related to prehistory, geology, and paleontology.
▶Available in Store
Paleontologist's Kit ( 20000

)
If you want to dig up fossils, this is the kit for you! Includes everything you need: 5 Fossil Brushes, a Rock Hammer and Rock Chisel, a Blue Hardhat for safety, and a Rare Fossil Prep Station to get your fossils ready for display.
The
Paleontologist's Kit
is an item pack which contains the tools needed to obtain
fossils
. It costs 20,000
gems
in the gems store.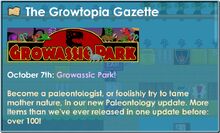 Pack contents:
Ad blocker interference detected!
Wikia is a free-to-use site that makes money from advertising. We have a modified experience for viewers using ad blockers

Wikia is not accessible if you've made further modifications. Remove the custom ad blocker rule(s) and the page will load as expected.