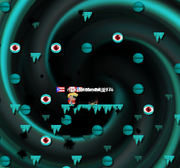 Growganoth is a special Halloween event only available during Halloween Week.
Growganoth's weather machine does not have a name, but it appears to be a giant dark whirlpool. The center being the maw.
This is an extra-dimensional being that wishes to spread spookiness around the world. Growtopians must navigate through a realm filled with platforms that switch on and off, with Evil Eyes that will kill the Growtopian on contact if they are open, and even flying eyes that will push you away if they touch them. Their spirits will be sucked into the Maw of Growganoth if they are dead.
Once a living Growtopian reaches the Maw of Growganoth, he or she can use the Drop button to sacrifice items to Growganoth. Depending on the rarity of the sacrifice Growganoth can give a wide variety of prizes with an equal or lesser value of rarity. There are specific items that you can sacrifice to get a guaranteed item!
They can use Sigil Of K'Tesh to transport to the Maw of Growganoth.
Remember, dropping some non-rarity items will make your item rejected by Maw and you will waste your time unless it is a guarenteed trade
When it is not Halloween Week, there will be a sign above the World Lock saying: GROWGANOTH WILL RISE AGAIN!!!
Item Trade
Growganoth rewards a sacrifice with a gift! The gift will be of equal or lower rarity. You will still only get 1 item for your stack. There are certain items Growganoth desires. These special items have special reward.
Note that the 500 gem Gift of Growganoth will give you a Growganoth items worth Rarity 75 or lower.
Rarity Trade
Special Trade
Ad blocker interference detected!
Wikia is a free-to-use site that makes money from advertising. We have a modified experience for viewers using ad blockers

Wikia is not accessible if you've made further modifications. Remove the custom ad blocker rule(s) and the page will load as expected.