Ad blocker interference detected!
Wikia is a free-to-use site that makes money from advertising. We have a modified experience for viewers using ad blockers

Wikia is not accessible if you've made further modifications. Remove the custom ad blocker rule(s) and the page will load as expected.
Welcome to the Growtopia Wiki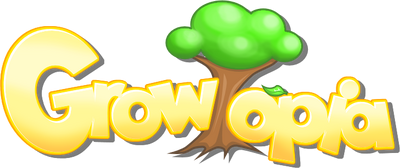 ---
The Growtopia Wiki is a free encylopaedia that provides up-to-date information to all users about the creative sandbox platformer MMO Growtopia.
Featured Item
Dirt is one of the four basic, and extremely common blocks with a rarity of 1 (along with Rock, Cave Background, and Lava). It's seed is where most other blocks are essentially spliced from, making it an important element in Growtopia.
Featured Event
WinterFest is a yearly event which is held during December. During WinterFest, the world GROWCH is inhabited by an NPC named Growch. When enough Winter Gifts are given to him, few WinterFest items will be unlocked, thus making Growch happy and restricting gifts to be given to him for several hours.
Wiki Statistics
Date of Creation:

12 December 2012

Total Article Count:

2,066

Total Page Count:

14,829

Files Count:

4,213

Total Edit Count:

60,734

Active Users Count:

202
Contribute
Create a new article
---
Growtopia contains many items and events. Some of such matters, however, are not documented in this wiki. Similar to the game itself, the wiki relies on the users in order to grow and provide detailed and top-notch information to the people.
A contribution to the wiki is a good one as long as it follows the wiki's rules and style guide. All users who wish to contribute to the wiki's growth are advised to follow the guideline.
The wiki is a free encyclopaedia, which means that anybody can edit and alter the content in the articles and pages in this wiki. Therefore, every detail must be accurately and precisely documented. Improving existing articles by adding missing information, correcting errors, or removing traces of vandalism, spam and other unneeded info are most appreciated.
What is Growtopia?
Growtopia is a 2D multiplayer creative sandbox platformer developed by Hamumu Software and Robinson Technologies.
Growtopia is a creative sandbox platformer MMO where you can create many worlds and build anything you can imagine. You, too, can explore a universe of millions of user-created worlds.
You can collaborate and chat with your friends from around the world with a full chat, friends list, and a messaging system. You can plant and splice seeds to grow trees and discover thousands of amazing items. You can also earn Gems, an in-game currency, entirely through gameplay!
You can protect your valuables using an innovative lock system! You can also exchange and trade items using a secure trading system.
Growtopia Wiki News
I have created a page for YOU to voice out their opinion and tell us what you want to see on this wiki!

Click here to go to the page.

Read more >
Latest Blog Posts
I have created a page for YOU to voice out their opinion and tell us what you want to see …

Read more >
Chat
Join the Chat>
Poll
How much do you love Growtopia?