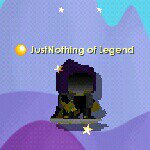 The Legendary Title, a new title after your name deeming you to be Legendary and adding a special flag icon. Name also fades to different colors.
You have to complete the Quest of Honor to get it. It can be temporarily removed for 24 hours by consuming an Apple.
Steps
Bring 2,000 Sand.
Kill 100 players in PvP via a Game Generator.
Break 5,000 Blocks.
Bring 600 Display Boxes.
Plant seeds that add up to 50,000 rarity.
Earn 50 Growtokens.
Bring 3 Golden Diapers.

Earn 10,000 XP.
Bring 1,000 Tombstones.
Deliver 100,000 gems.
Break 100,000 rarity worth of blocks.
Complete 100 successful surgeries.
Collect from 1,000 providers.
Bring 3 Golden Heart Crystals.
Collect 100,000 rarity worth of fruit from trees.
Bring a Growie Award.
Bring 3 Super Fireworks.
Bring 10 pairs of Rainbow Wings.
Bring 3 Birth Certificates.
Deliver the Legendary Orb.
Ad blocker interference detected!
Wikia is a free-to-use site that makes money from advertising. We have a modified experience for viewers using ad blockers

Wikia is not accessible if you've made further modifications. Remove the custom ad blocker rule(s) and the page will load as expected.