▶Buying/breaking a
The Lovebird Pendant is a pet/leash item which follows you around. This item was first introduced on the 2016 Valentines Day, obtainable from Golden Booty Chests.
Pet Battle Ability
Pet Battles
Lovebird Pendant
Air Battle Pet
Ability
Enthrall: Mesmerize your enemy, so it can do nothing but swap out for 6s. Inflicts 10 Air Damage.
Cooldown: 20 seconds.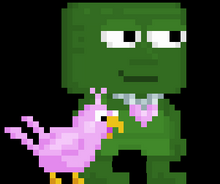 Ad blocker interference detected!
Wikia is a free-to-use site that makes money from advertising. We have a modified experience for viewers using ad blockers

Wikia is not accessible if you've made further modifications. Remove the custom ad blocker rule(s) and the page will load as expected.