Stub
Please add more information to this page.
"I know you dreamed about this since Day 1 of Growtopia. It is finally here. For real. Yes - there is an Orange Shirt, and it's not just a block, you can WEAR IT."

News Article
April 1st: The Ultimate Update - We had to hire 7 more artists. We had to spend the last 5 months focusing on this.
We almost couldn't keep the secret, it was so big. We worked 12 hour days. This update couldn't fit any other items because of it, but it was all worth it.
It's finally here... the one item that EVERYONE on the forums has been demanding since Growtopia launched. The item that will change EVERYTHING.
... the Orange Shirt is really here at last, and it's available to all players! And it's not just a block, with our amazing WearTech Technology, you can wear it!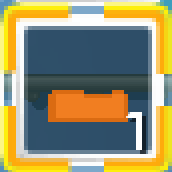 About Item
Orange Shirt, is a shirt released on the 1st of April 2016. It was April's Fool joke of 2016.
The tree of this item can be made by mixing the following seeds:

Orange Wallpaper Seed

Poppy Seed
In-game Description
Rarity: 53

This item never drops any seeds.
Ad blocker interference detected!
Wikia is a free-to-use site that makes money from advertising. We have a modified experience for viewers using ad blockers

Wikia is not accessible if you've made further modifications. Remove the custom ad blocker rule(s) and the page will load as expected.