Phonecats Hat

Basic information

Name
Phonecats Hat
Rarity
999
Category
Clothes
Properties
No Seed


Extra information

Texture Type
No spread
Clothing Type
Hat
Collision Type
Fully solid
Hardness
0 (0 hits to destroy)

Seed Information

Grow Time
1h
Seed Style
14 / 12 / 6 / 4
Seed Color
#808080
Overlay Color
#404040
The Phonecats Hat is a headwear item given to Phonecats (Youtube username is Phonecatss), known in-game as pcats. The hat resembles the Phonecats logo.
The hat was given to Phonecats by @Hamumu, who left a comment on his video, leaving a thanks and telling him to check his inventory.
Phonecats is a Growtopia YouTuber and Live Streamer who helped invite people to Growtopia in the early stages of its development
Additional Info
The description WAS planned to be a secret, though Phonecats revealed the description for half a second in one of his Growtopia Videos, revealing the secret of the Phonecats Hat.
History
The phonecats hat used to have a similar design to that of the Nyan Cat hat, but both of the designs were changed for copyright reasons.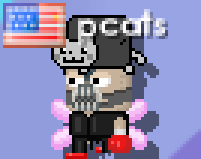 Ad blocker interference detected!
Wikia is a free-to-use site that makes money from advertising. We have a modified experience for viewers using ad blockers

Wikia is not accessible if you've made further modifications. Remove the custom ad blocker rule(s) and the page will load as expected.