Stub
Please add more information to this page.
This pistol provides the power to pelt people with perilously pointy pineapples.
This item can only be obtained during the
Super Pineapple Party
. It is obtained through
Pineapple Magic
.
In game description
This items can't be spliced.
This item never drops any seed.
Gallery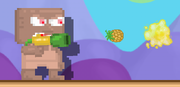 Ad blocker interference detected!
Wikia is a free-to-use site that makes money from advertising. We have a modified experience for viewers using ad blockers

Wikia is not accessible if you've made further modifications. Remove the custom ad blocker rule(s) and the page will load as expected.