Stub
Please add more information to this page.
I'll have the Supreme with Cheese!
The Pizza is an edible food item. Like most cooking items, the player says YUM! in purple text when this item is consumed, with the :D face.
This can also be obtained by calling 00000 on the Telephone and writing Growtopizza to pay 1 Big Lock for a pizza.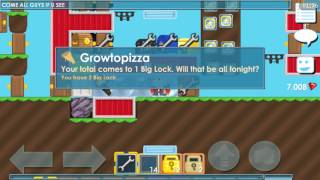 Recipe
▶By Combining
Dough x3
Tomato x1
Swiss Cheese Block x1
In any Chemical Combiner.
This recipe will give 1 item(s).
In-Game Description
This item can't be spliced.

This item never drops any seeds.