Stub
Please add more information to this page.
Super special wings that are only for Play!
@Play
is the second
moderator
to receive his or her own personal item. They look like a pair of Black Bat Wings. As it is a exclusive moderator item, it is unsplicable or purchasable and only owned by
@Play
.
@Play is no longer a moderator.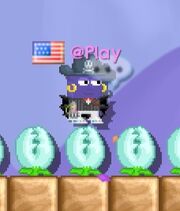 Ad blocker interference detected!
Wikia is a free-to-use site that makes money from advertising. We have a modified experience for viewers using ad blockers

Wikia is not accessible if you've made further modifications. Remove the custom ad blocker rule(s) and the page will load as expected.