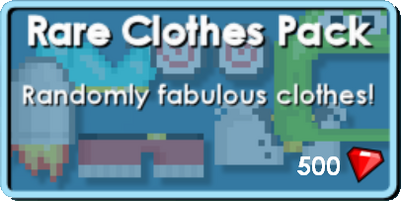 ▶Available in Store
Rare Clothes Pack ( 500

)
Enjoy the garb of kings! You'll get three randomly chosen rare wearable items. Some may even have special powers...
The Rare Clothes Pack costs 500 Gems in the Store. It gives you 3 random rare clothes going from rarities of 11 - 80. Many people use this during Growganoth.
See also
Ad blocker interference detected!
Wikia is a free-to-use site that makes money from advertising. We have a modified experience for viewers using ad blockers

Wikia is not accessible if you've made further modifications. Remove the custom ad blocker rule(s) and the page will load as expected.