---
▶Available in Store
Rockin' Pack ( 9,999

)
ROCK N' ROLL!!! Play live music in-game with 3 Rare musical instruments, Starchild Makeup, a Rockin' Headband, Leopard Leggings, a Shredded T-Shirt, a Drumkit, 6 Stage Supports, 6 Mega Rock Speakers, and 6 Rock N' Roll Wallpaper.
This pack was released on the 13th of July, 2014.
It costs 9,999 gems because it probably looks cooler than the regular 10,000 gems.
Pack includes:
News Article: July 13th: THE MAGIC OF MUSIC! Introducing the Rockin' Pack! More boring items to collect? WRONG, you can actually live jam real songs with your friends!
Gallery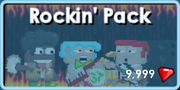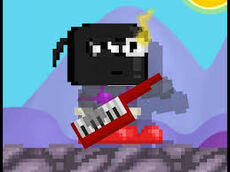 Ad blocker interference detected!
Wikia is a free-to-use site that makes money from advertising. We have a modified experience for viewers using ad blockers

Wikia is not accessible if you've made further modifications. Remove the custom ad blocker rule(s) and the page will load as expected.