The Small Seed Pack gives you five random low-rarity seeds; the rarest being about rarity 21 (like Swiss Cheese Block) and the lowest being rarity 2 (like Glass Pane). This pack costs 100 Gems (it used to be 50).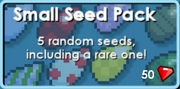 Store Description
"You'll get 5 randomly chosen seeds. Who knows what you'll get?!"
Additional Info
There are 136 kinds of Small Seed Pack Seeds. Note that this still allows you to get seeds that are harder to get (like Martian Tree ), so it makes a bit more sense to buy it.
Confirmed Seeds
Ad blocker interference detected!
Wikia is a free-to-use site that makes money from advertising. We have a modified experience for viewers using ad blockers

Wikia is not accessible if you've made further modifications. Remove the custom ad blocker rule(s) and the page will load as expected.