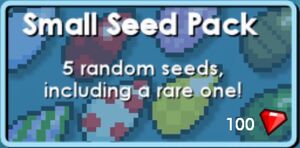 ▶Available in Store
Small Seed Pack
is a pack which gives five random low-rarity seeds, ranging from rarity 2 to rarity 21. There are 138 different types of seeds.
Seeds
Trivia
During the Systems Update, the price of the Small Seed Pack was changed from 50 Gems to 100 Gems to discourage players from purchasing them from the store.
During Anniversary Week 2017, all seeds which cannot be made through splicing were removed from the pack.
Gallery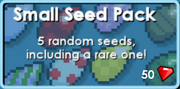 Ad blocker interference detected!
Wikia is a free-to-use site that makes money from advertising. We have a modified experience for viewers using ad blockers

Wikia is not accessible if you've made further modifications. Remove the custom ad blocker rule(s) and the page will load as expected.