Stub
Please add more information to this page.
This miraculous device allows you to commune with spirits from the Other Side.
The
Spiritual Resonator
is a special
Halloween
item. It can only be purchased from the Store for 40,000
gems
, or trading with players. It is a wearable Head item. It is a leash that makes a ghost appear and hover around you. The ghost is translucent in appearance, allowing you to see what is behind it. This helmet looks similar besides color to the
Brainwave Capacitor
.
The ghost may reference to Pac-Man ghosts.
In-Game Description
This item can't be spliced.
This item never drops any seed.
This can be trained as an Air Battle Pet.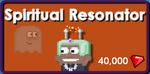 Recipe
▶Available in Store
Spiritual Resonator (Only during Hallowen) ( 40000

)
worm on the head, where it sends out signals into the great beyond, attracting friendly spirits. The ghost that follows you around when you wear this has a special ability - if you wear a pet leash on your wrist at the same time, the ghost will replace the pet, but imitate its abilities (such as breathing fire if you wear a dragon Hand)
▶By Combining
Transmog Crystal x1
Spiritfire Mask x1
Brainwave Capacitor x20
In any Chemical Combiner.
This recipe will give 1 item(s).
Pet Battle Ability
Pet Battles
Spiritual Resonator
Air Battle Pet
Ability
Posession: Possesses the target making it hit a wrong target with a random move.
Cooldown: 20s seconds.