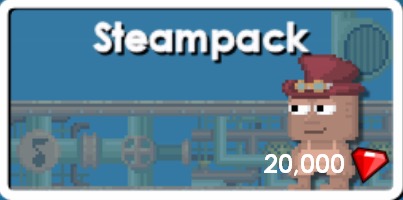 ▶Available in Store
Steam Pack ( 20,000

)
Steam! It's a wondrous new technology that lets you create paths of Steam Blocks, then jump on a Steam Stomper to launch a jet of steam through the path, triggering steam-powered devices. Build puzzles, song, parkour challenges, and more! Pack includes 10 Steam Tubes, 2 Steam Stompers, 2 Steam Organs, 2 Steam Vents, 2 Steam Valves and a Rare Steampunk Top Hat.
The Steampack, or Steam Pack, was released alongside Growtopia's 3rd Anniversary Week in 2016. This pack is available for 20,000 gems in the gem store. With these items you can also mix them and make new items!
Contents of the Pack
This pack includes:
Additional Info:
With these Steam Items, you can make crazy machines, like puzzles, parkour or such.
@Hamumu stated that he will try and add more Steam Block items in the future (Hamumu's Blog, scroll down)
Ad blocker interference detected!
Wikia is a free-to-use site that makes money from advertising. We have a modified experience for viewers using ad blockers

Wikia is not accessible if you've made further modifications. Remove the custom ad blocker rule(s) and the page will load as expected.