Store Packs are the many kinds of packs in the Growtopia Store that can be purchased. These packs vary from gem packs, to item packs, and to event packs.
Gem Packs
The Gem Packs in the game can be bought for real money. There are 4 different gem packs, each giving a certain amount of gems.
Over the years, the amount of gems that each pack have been increased, while the price of it remained around the same.
Bag o' Gems
The Bag o' Gems pack earns you 5,000 Gems for the price of 0.99 USD.
Chest o' Gems
The Chest o' Gems pack earns you 12,000 Gems for the price of 1.99 USD.
Gem Fountain
The Gem Fountain pack earns you 40,000 Gems for the price of 4.99 USD.
It's Rainin' Gems
The It's Rainin' Gems pack earns you 100,000 Gems, a Growtoken, and a Megaphone for the price of 9.99 USD.
Item Packs
The Item Packs in the game can be bought for a specific amount of gems. Unlike the Event Packs, they can be bought anytime.
Door & Sign Hello Pack
Basic Splicing Kit
Small Seed Pack
Rare Seed Pack
Clothes Pack
Rare Clothes Pack
Gangland Style
Racing Action Pack
Composer's Pack
Fantasy Pack
Education Pack
Dungeon Pack
Zombie Defense Pack
Vegas Pack
Farm Pack
Mad Science Kit
City Pack
Wild West Pack
Astro Pack
Surgical Kit
Prehistoric Pack
Shop Pack
Home Pack
Cinema Pack
Adventure Pack
Rockin' Pack
Game Pack
Superhero Pack
Crime Wave
Fashion Pack
Sportsball Pack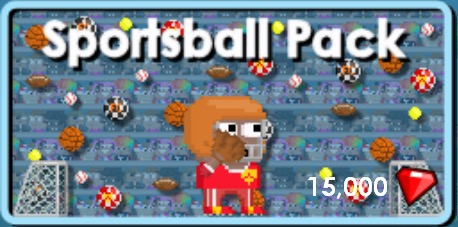 Fishin' Pack
Firefighter Pack
Steampack
Painter's Pack
B.O.O. Training Pack
Paleontologist's Kit
Chemsynth Pack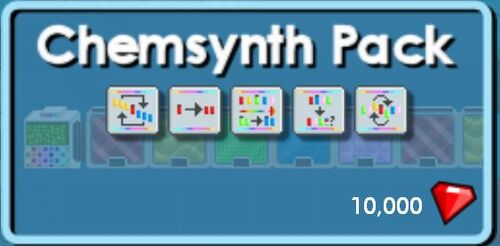 Event Packs
The Event Packs in the game are packs that are related to the current event that is occurring in that point of time. They are only available during the event, after which they are unavailable until the event occurs again.
Anniversary Week
Valentine's Week
St. Patrick's Week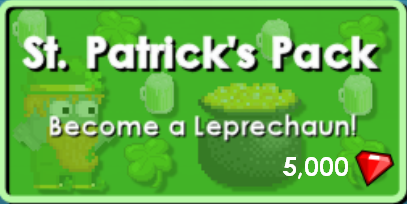 Easter Week
SummerFest
Harvest Festival
Ad blocker interference detected!
Wikia is a free-to-use site that makes money from advertising. We have a modified experience for viewers using ad blockers

Wikia is not accessible if you've made further modifications. Remove the custom ad blocker rule(s) and the page will load as expected.