▶Available in Store
Surgical Kit ( 12,000

)
Get all the tools you need to become Chief of Surgery at Growtopia General Hospital! You get a Rare Heart Monitor that lets people know when you are online, a Hospital Bed that lets you perform surgery on anybody laying (or standing) on it, and 5 of each of the 13 different Surgical Tools you'll need to do that surgery!
This pack was released on the 21st of November 2013 as part of the General Hospital update. The January 2017 monthly update changed the Surgical Kit price from 8,000 gems to 12,000. The update also reduced the amount of tools received from 10 to 5 and added 6 new tools : Surgical Lab Kit, Surgical Defibrillator, Surgical Pins, Surgical Clamp, Surgical Transfusion and Surgical Ultrasound.
This pack includes: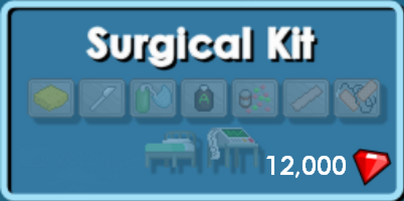 Ad blocker interference detected!
Wikia is a free-to-use site that makes money from advertising. We have a modified experience for viewers using ad blockers

Wikia is not accessible if you've made further modifications. Remove the custom ad blocker rule(s) and the page will load as expected.