Growtopia Gazette

Feb 10th: Valentine's Week
It's Valentine's Week! Spend the time enjoying the company of your friends and sharing the love and peace of the universe, man!
New this year: There are no more items given out for "well loved" worlds. It's all about you personally hanging out with other people. Take a break and party, don't worry about doing any fancy building.
Every year, on the day of Valentine's, there is a special event known as Valentine's Week
Previously, Heartstone used to spawn in "well loved" worlds which replaced rocks instead. Later, due to abuse of rocks, Golden Booty Chests would spawn randomly in any "well loved" world. As of 2017, Golden Booty Chests are now given out in a special event called "Share The Love" where everybody in the world is given a Golden Booty Chest. Hamumu has stated that code has been written to prevent multiple accounts and people AFKing and doing so can get you banned.
The following items are made by combining 200 Candy Hearts, a Golden Heart Crystal, and an appropriate clothing item in a Chemical Combiner:
Other Items
Ruby Shard - Found by using a Geiger Counter during Valentine's Week.
Ruby Lock - Obtained by using 200 Ruby Shards on yourself.
Gallery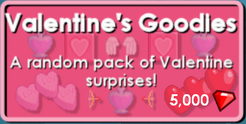 Ad blocker interference detected!
Wikia is a free-to-use site that makes money from advertising. We have a modified experience for viewers using ad blockers

Wikia is not accessible if you've made further modifications. Remove the custom ad blocker rule(s) and the page will load as expected.