Wooden Background

Basic information

Name
Wooden Background
Rarity
4
Category
Background Block
Properties
No Special Action


Extra information

Texture Type
Full-sized
Collision Type
No collision
Hardness
18 (3 hits to destroy)

Seed Information

Recipe
Grass Seed + Door Seed
Grow Time
3m 4s
Seed Style
10 / 4 / 2 / 4
Seed Color
#97724b
Overlay Color
#ac7f50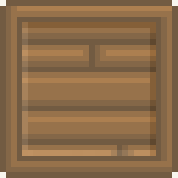 "A ton of planks! A plank ton!"
Taking the appearance of a few irregularly placed wooden planks on a wall, the wooden background is perfect for a calm atmosphere. When placed together, they will connect next to each other, creating a continuous pattern.
Unlike most early-stage backgrounds, Wooden Background merges easily with other backgrounds, such as Window and it easily fits the gap between block and wallpaper, unlike Rock Background.
Recipe
To grow, plant a Wooden Background Seed. (Or splice a Grass Seed with a Door Seed)
Ad blocker interference detected!
Wikia is a free-to-use site that makes money from advertising. We have a modified experience for viewers using ad blockers

Wikia is not accessible if you've made further modifications. Remove the custom ad blocker rule(s) and the page will load as expected.